On Saturday, January 28th 2017 in Aspen, Colorado at the Winter X Games Big Air competition James "Woodsy" Woods dropped in for his 4th and final run. He was in second place behind four-time champion Henrik Harlaut and needed to put up a big score.
This wasn't Woodsy's first big event. He started competing in the U.K. at the national level in 2007 and had placed well at a number of international events, including capturing the FIS Freestyle Skiing World Cup in 2012-2013 and a fifth place finish in the 2014 Winter Olympics in Sochi.
But there is something special about the X Games stage and if he could manage to take gold it would be the first ever skiing event to be won by a Brit in X Games history. Indeed, how was it that a kid from a country not known for its skiing could possibly produce a skier at this level?
Many people are surprised to learn that the UK has one of the most vibrant ski scenes in the world, and that it has four times as many ski hills per square mile as the US. This is made possible by the dry slope phenomenon, allowing the Brits to build ski slopes where there were none. And a dry slope is where Woodsy got his start.
This is part two of our three-part series in which we bring you up to speed on the synthetic (aka "dry slope") skiing movement, including the experience, the materials and the people making it happen.
In Part I we learn about the surfaces themselves: What is a synthetic ski surface, why do they exist, and what is the synthetic skiing experience like?
In Part II we take a trip across the pond to see what the U.K. dry (i.e. synthetic) slope scene is all about
In Part III we discuss how synthetic slopes are changing the future of the sport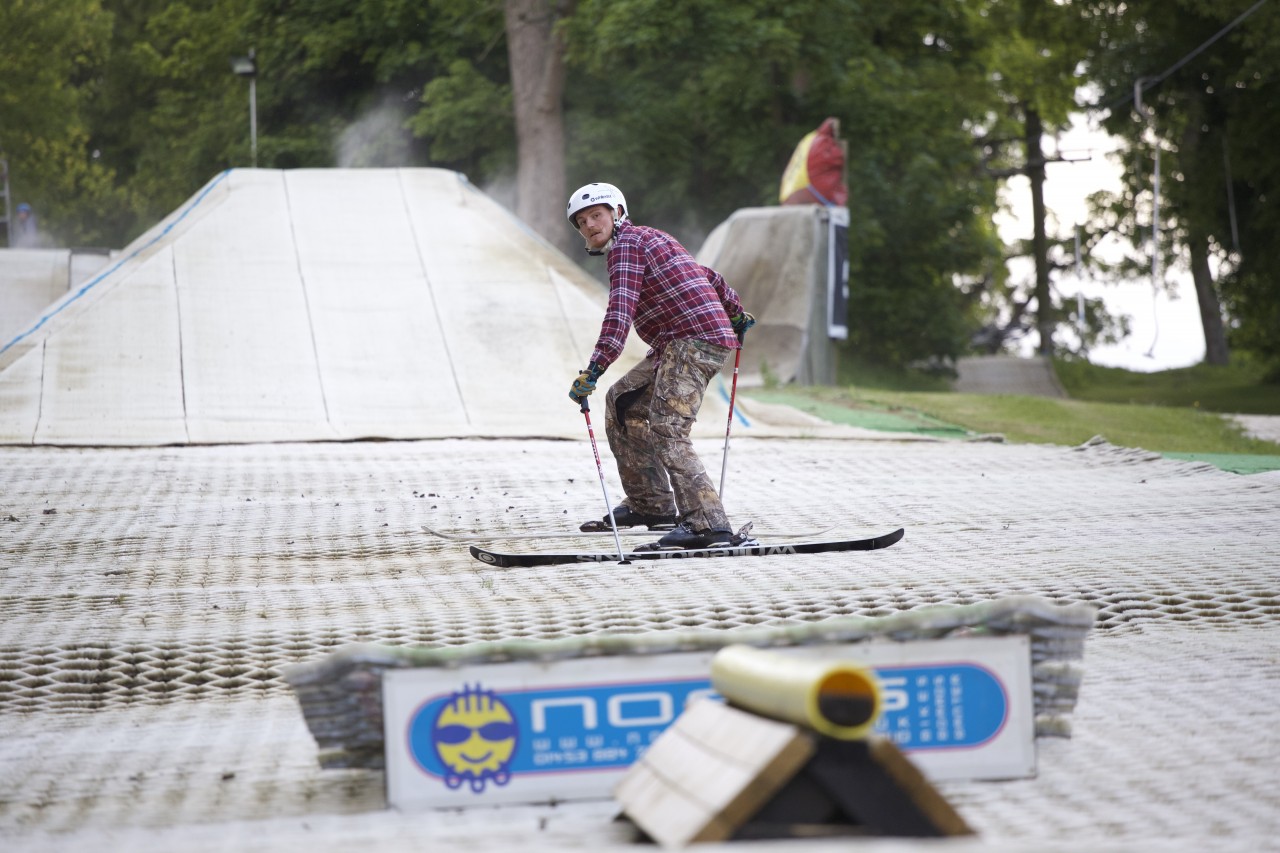 Will Tucker sizes up a feature (image courtesy Jack Tompkins)
After reading the series you'll understand the synthetic skiing experience and how it will enable you to ski or snowboard more often, resulting in faster progression, better fitness and more time having fun with your friends.
Part II: The U.K. Dry Slope Scene
The UK may be the most unusual ski nation in the world. A quick search of "skiing in the UK" returns a confusing list of resorts in Scotland, hills run by volunteers in England and Wales where guests are encouraged to bring a shovel to dig their own parking spaces, indoor ski centers (charmingly known as "fridges") and number of "dry slopes".
The U.K. may be the most unusual ski nation in the world
If you head out to Stoke Ski Center, Kendal or SnowTrax, three of the better known dry slopes, you might run into Will Tucker or Row Emery, two riders working to foster the next generation of freeskiers.
Since freeskiing emerged as a discipline more than twenty years ago it's quietly and steadily made its mark on the many dry slopes spread across the country. In his documentary on the sport "God Save the Scene", Jack Tompkins introduces us to Row and Will and gives us a glimpse into the subculture that is the U.K. dry slope scene.
Doing More With Less
The hills themselves are not large; Stoke Ski Center, for instance, has a vertical drop of about 150 feet, and it's one of the bigger ones. But don't assume they don't throw big in the UK - check out Will's corkscrew 900 at about 9:00 minutes in to God Save the Scene. According to Row the small size actually forces you to look at things differently to work with what you have, and it's one of the reasons we see so much creativity in technique coming out of the country.
The picture painted by "God Save the Scene" bears little resemblance to the superpark scene that you might find in the US, with its immense scales and few opportunities for riders to interact with one another. The dry slope is more akin to a local skatepark or a backyard jump setup with the whole neighborhood showing up for a session. It's less about the facility providing a park for people to ride and more about the community making use of the space to create what they want to ride. In one scene we even see Will and company driving a tractor up to the top of a grassy field to lay down some dry slope tiles and features and make their own session.
If you live in the San Francisco Bay area and have a passion or newly found interest in skiing or snowboarding, sign up to keep up to date on upcoming Urban Snow events on ProSno synthetic surfaces as well as related news & articles.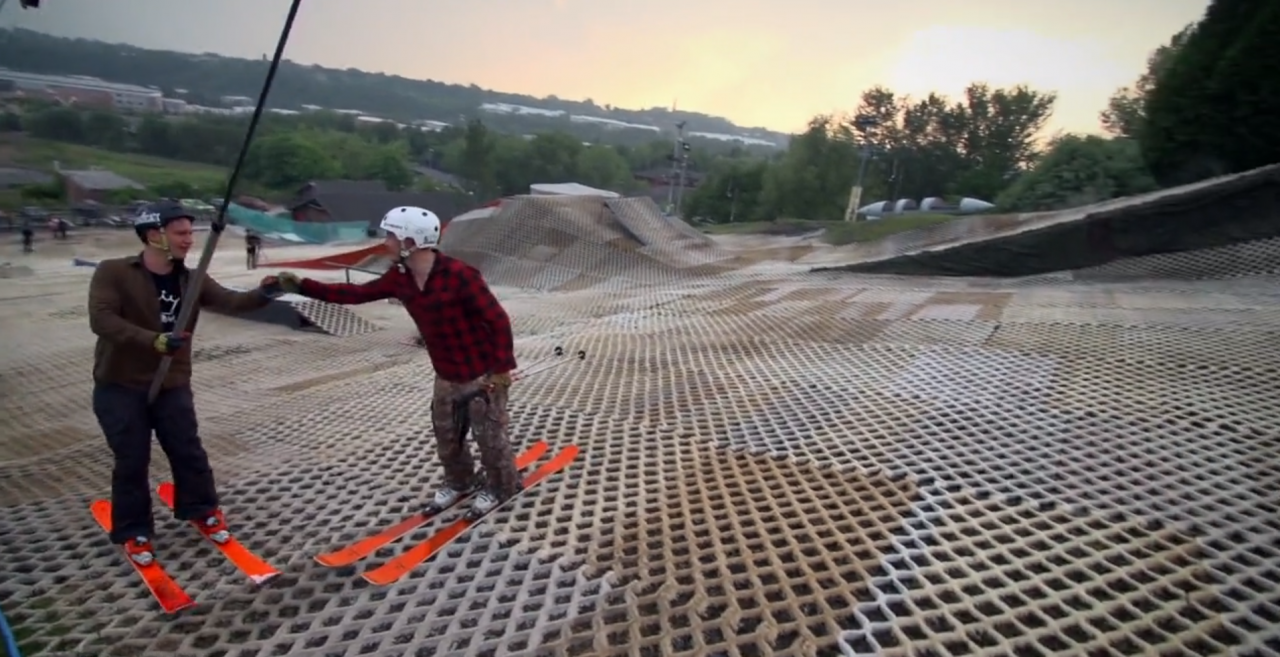 Will Tucker and Ant Smith kick off a session (image from God Save the Scene)
The neighborhood ski slope
With 50 active dry slopes and a smattering of fridges in the U.K. it's almost as though everyone has his or her own neighborhood ski area. It's a ski tradition that we've largely lost sight of in the United States, favoring huge resorts with sculpted and curated experiences.
In the U.K. it's almost as though everyone has his or her own neighborhood ski area
Don't get me wrong, superparks definitely have their place, but there is something to be said for the community hill where kids and adults come together and build relationships while they help one another progress.
A Young Brit Learns to Ski
It's this community that James "Woodsy" Woods grew up in. Woodsy learned to ski at Sheffield Ski Village, at one time of the most forward thinking and popular dry slopes in the UK (also associated with a suspicious string of fires that closed the hill in 2012). He didn't come from a skiing family, and first encountered the sport at a friend's tubing birthday party. He immediately thought "I can do that". And indeed he did.
Woodsy exploded on the scene in 2011 with a Winter X Games bronze medal in slopestyle at the age of 19 (despite never riding natural snow until age 12). Since that time he's racked up a number of FIS medals and AFP medals in slopestyle and big air competitions, including another Winter X Games slopestyle bronze in Aspen in 2013.
Going Big on the Big Stage
Woodsy's rise brought him to Aspen for the X Games on Saturday, January 28th 2017. Woodsy was currently in 2nd place behind four-time winner Henrik Harlaut in a best-two-runs-out-of-four format. He needed to score an almost unimaginable 46 points on his final run to take the gold. What happened next is difficult to describe. Even watching the replay in slow-motion it's hard to understand if you haven't spent a lot of time analyzing ski tricks.
Imagine skiing backwards down the run-in to the jump, then throwing your arm across your body as you take off to initiate rotation, while at the same time ducking your head down to create an additional off-axis spin (similar to how a top wobbles). Then, while in the air making four complete revolutions, and three complete wobbles, crossing your skis and grabbing them with both hands in about the most awkward way imaginable, then releasing them and landing backwards on the runout. The trick is called a switch triple corkscrew 1440 octograb, or a switch triple for short.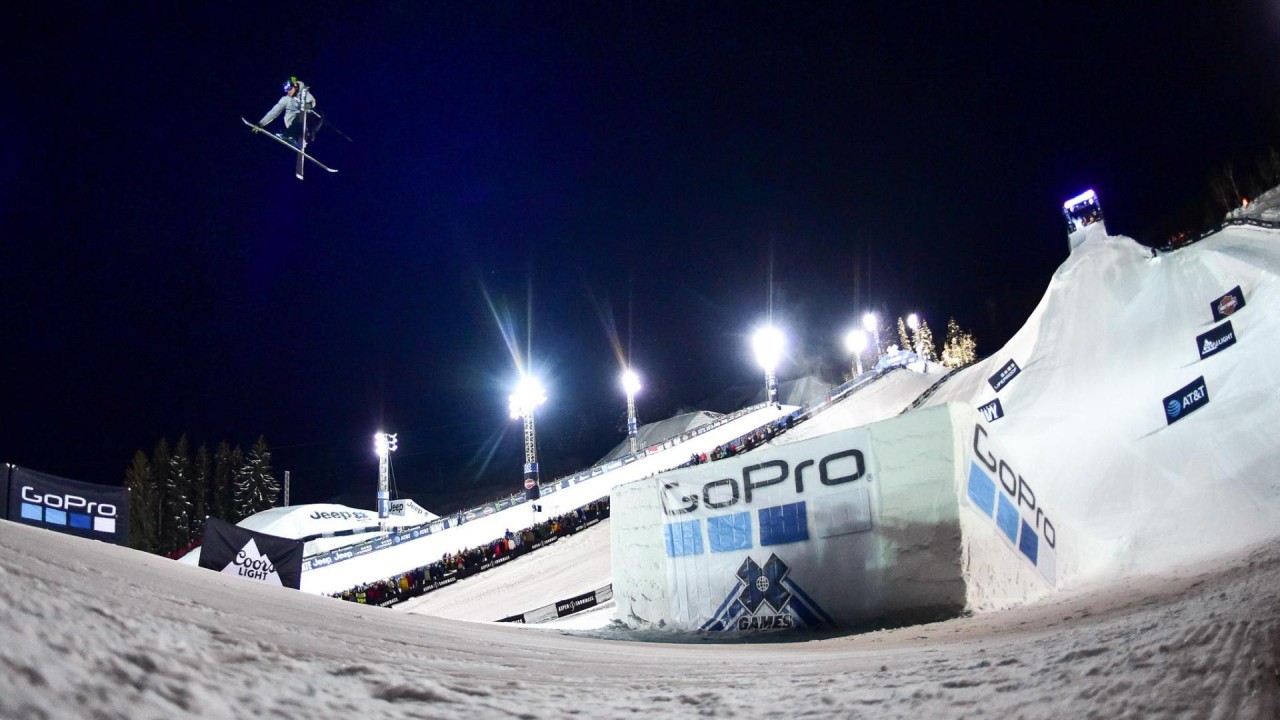 James "Woodsy" Woods goes big at Winter X Games 2017 (photo from ESPN).
Woodsy popsted 46 points. He became the first Brit to take an X Games Gold in skiing. Not bad for a kid grew up in a town with an average annual snowfall of about 10 inches.
Back to the 'hood
Woodsy hasn't forgotten his roots. Last year he completed the "Only Mad Dogs and Englishmen" tour of local slopes around the U.K (short video about the tour here). He even makes an appearance and the end of "God Save the Scene" to give (or at least try to give) his perspective on what makes the UK freeski scene so special.
His inability to find the words echoes what many of us know about skiing. It just has that remarkable something that makes you want to keep coming back, whether you're a kid in the Bay Area or the UK who has never seen snow, or you're a pro at the pinnacle of the sport dropping in for a medal run in the X Games.
If you live in the San Francisco Bay area and have a passion or newly found interest in skiing or snowboarding, sign up to keep up to date on upcoming Urban Snow events on ProSno synthetic surfaces as well as related news & articles.